The Irish Wolfhound Archives


E. C. Murphy Collection


Painting signed by W. H. Ward Revised Date (1850-1882)
Betty was fortunate enough to find this painting in Dublin about thirty years ago.
John Hamshere of Hamshere Gallery, UK. Made contact recently regarding the date of the Ward painting. He suggested that the painting was by W H Ward, a Birmingham painter, 1850-1882, rather than William Ward, 1766-1826.
Copies of the W H Ward signature and of the framerís stamp on the back of the canvas were sent to Mr Hamshere. The framerís name and Birmingham address on the back seemed to confirm that the painting was by W H Ward 1850-1882
.
John Hamshire was kind enough to send the following copy of an oil painting by Frederick Thomas Daws (1878-1949) which he says was published in early Irish Wolfhound material.
Thank you John Hamshere
Belleek plate
(9 inches/23cm)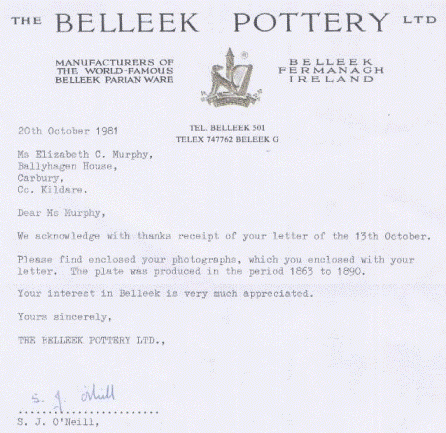 Modern Belleek Piece
(Height: 8.5 inches/21.5cm)
Note, recently written, underneath: "after Greyhound. Fullerton. Possibly 1870s"
Not sure if note is accurate. Betty got this in Dublin 6.5 inches / 16.5cm


Made in Zimbabwe 10 inches long
Gift from Mary Keenan
1913 Silk Irish Wolfhound Cigarette Card
(3 inches across)
Pill Box bought in old Irish Country House.
No date available at present.
(Length: 2 inches/5cm)
Pendant brought in Dublin.
(1.5 inches - 4 cm)
Date unknown at present. Shown at higher resolution so you can see detail.
Tea Bag - Irish 1870s