The Irish Wolfhound Archives


Dr May's Collection
Sculptures, statuettes, correspondence, newspaper cuttings etc
Sculptures etc from the Dr May's Collection bought by Elizabeth Murphy
from Mrs Roche, now returned to the Dr May collection.
Some committee members of the IWC of Ireland also bought some items.
If these can be traced, I will include photographs.
Notebook records "Baileys Hound "Cuculain" KCSB 21753 by a well known Dutch Sculptor "Van Beuron" on opposite page "Cuculain purchased May 1885".
(16 x 13 inches: 41 x 33 cm)
Difficult to compare with "Cuchullin". Number 38 in Graham's Pedigrees.
Photo only of the bronze, it would be interesting to know where the bronze is now.
Irish Wolfhound Death Mask
(14 x 7 inches; 35.5 x 18cm)
Inscription:
"Presented by the management of the Irish Wolfhound Club of Ireland
To T. W. Corcoran M.P.S.I
In recognition of his services as founder and Secretary 1925 - 1929"
Irish/UK Ch Finbarr Boroimhe
Owner: Mr Corcoran. Breeder Mr & Mrs Donnelly
Born: 29th August, 1925
It has been suggested that Finbarr was used as model for the Irish sixpence
Irish Wolfhound painting on turf. Turf allowed to dry out breaking up painting. Sod of turf mounted by Cambridge & Co, Grafton Street, Dublin
GELERT
One of the above is reproduced in Capt Graham's "Irish Wolfhound Pedigrees 1859-1906", published by The IWC of Ireland in 1959, with the following description.
"A China group about one hundred years old commemorating the sad story of the faithful GELERT who saved Llewellyn's daughter from the gaunt wolf. Note the Shamrocks on the little Princess's dress."
(Height: 8.5 inches/21.5cm)
Irish Wolfhound in solid brass.
Length: 12.5ins (32cm)
Height to top of head: 5.5ins (14 cm)
Dr May's comment on the tail
'poetic licence'
THE IRISH PENNY JOURNAL, May 1841
Article by H. R. Richardson on
THE IRISH WOLFDOG
(Click on pages to enlarge)

Pedigree of ROMEO Born 30.4.1896 Romeo 30.4.01896 repeated to show note re height on top

Pedigree IRIS Born 29.4.1898 Pedigree TYNAGH born 20.6.1899

Pedigree FUATH born 7.8.1903 Pedigree LUFRA RHU (i) born 6.9.1904

Pedigree LUFRA RHU (second copy) born 6.9.1904 Pedigree I W litter - Dam born 1938. Sire born 1929

Pedigree of Litter bred by Dr May 24.8.1932
Archival Data
Dr May had the following collection stored in an old medical journal.
I have not found John Baily's notes and newspaper cuttings referred to by Delphis
Gardner at the end of the reprint of The Rev E Hogan's section in book The Irish Wolfdog.
As some of these notes are pasted into a copy of JOHN BULL, 1906, before Dr May's time, perhaps they include John Baily's research notes and may include some more of Fr Hogan's notes.
Newspaper report re 1730s Wolf Dogs lost
Graham Letter 09.03.1877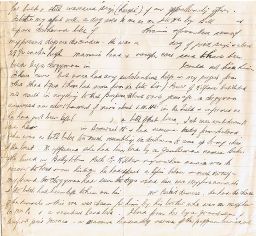 The following was written into the back of Dr May's old Medical Journal
As with Graham's letter above, the pages were longer than A4 and had to be copied in two sections.
Article on the revival of the Irish Wolfhound
Unsigned and undated
Dr R J May's account of his early days in the breed
Dr May's Research Notes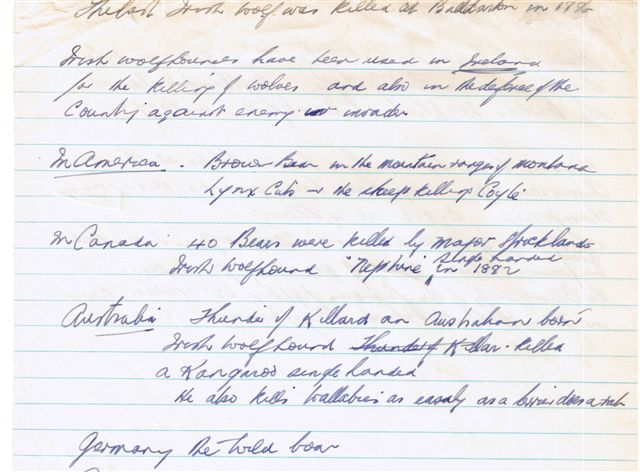 1948 DOG WORLD(USA)
Report on
Wolfhounds of Ireland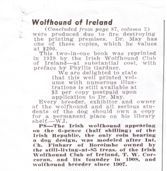 The Irish Wolfhound
by Dr R J May
(handwritten)
The End



Early letter-headings of the
Irish wolfhound club of Ireland
Irish Times 26.8.1939
Write-up on Hogan Graham Reprint

Trophy List Irish Wolfhound Club of Ireland
1950-1960

IRISH WOLFHOUND CLUB OF IRELAND
IWC of Ireland Rulebook 1960
Irish Times report 1960
Revive Breeding of Irish Wolfhound

Article on
THE IRISH WOLFHOUND
by Robert J May
Published in
IRELAND OF THE WELCOMES

Letters from Malcolm Graham, Capt Graham's son, to Dr May, President of the Irish Wolfhound Club of Ireland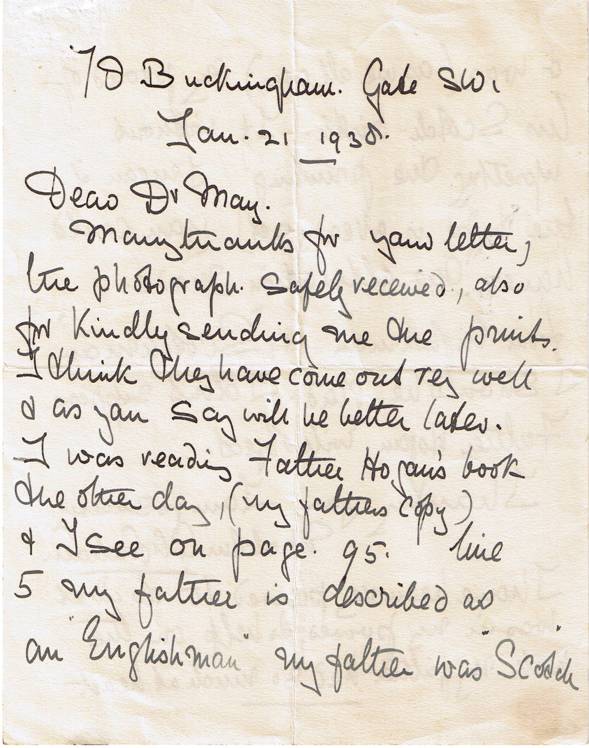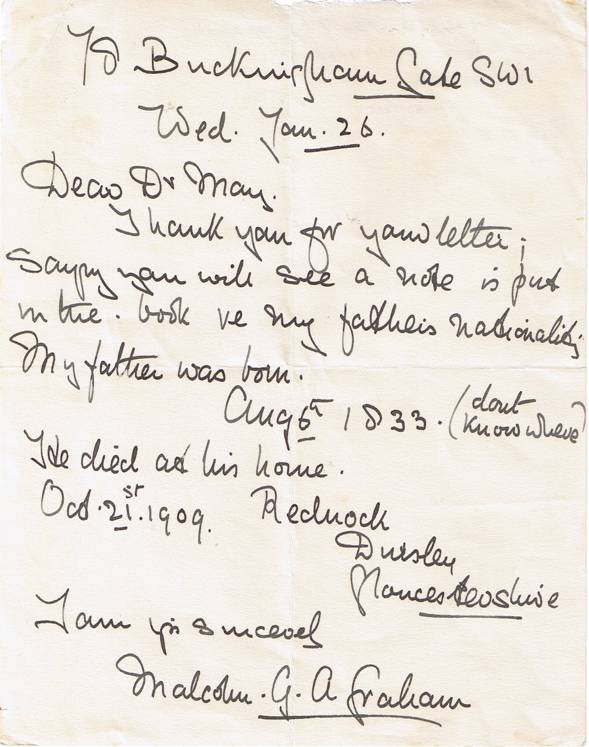 Notes on back of letter dated January 26th 1938 1938